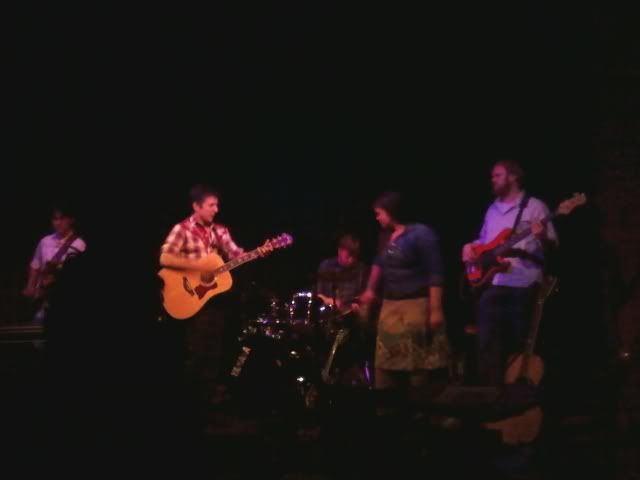 (picture from my non-fancy phone)
Last night was sooooooooooooo good for my (our) souls!
I love the stage at
Mockingbird
because you feel like you are in someones living room--we sat just one table back from the stage. The
Black Lillies
were awesome.
At one point Andrew turned around and said, "Is he giving you the goat eye?"
Now, I don't know where the origin of the "goat eye" comes from, but I have a feeling that this is something that came straight from the hills of W. VA. It means giving someone, well, you know,
that kinda
look. ;)
I'm pretty sure that he was giving everyone the goat eye from the stage but I smiled and said, I don't think so, and kept on dreamily staring, maybe hoping that he was giving me a little goat. (what, engaged doesn't mean blind.....)
After the show I rushed over to buy their new CD. I walked up up to Trisha, one of the singers, and asked her if I could hug her...because, I'm all touchy-feely-and-slightly-awkward like that. I saw Cruz, the lead singer, to the side and smiled as I asked him to sign my CD. I was face to face with the goat eye. I left really fast because, well, you just shouldn't linger around handsome musicians with goat eyes. This is a very important lesson in life.
Givin' the "goat".
It's a good thing I have already fallen head over heels for a boy with the biggest blue eyes on the planet.
Plans for the weekend: High School Valentine's Dance tonight! I already told all of the cheerleaders to ask Andrew to dance. He will die. For reals.
Saturday I have to work from 9-4 (boo) BUT I also get to work on some music during that time. I can deal with that. Sat. night we are going over to a good friends house (who has babies that I can play with!) and Sunday is our full day celebration of V-Day! (Valerie Day!)
xoxox Happy Weekend lovers.