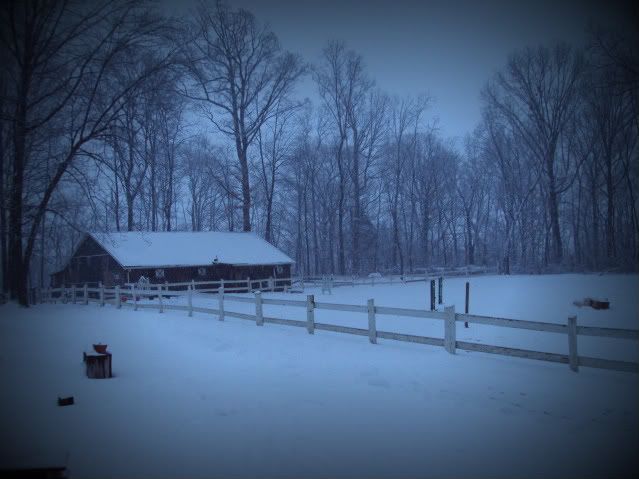 "the old barn"

Car is in the shop. Andrew picks me up from work. I skip to the car and we pretend like I am hitchhiking and need a ride.
We drive around and looked at the sky turn dark. The mountains turn black and the grey clouds seem to hug us just a little tighter. The air smells like snow.
I can smell something baking in the oven as I walk to into the house. Dogs and kids run to the door. Two blonde headed little people hug and kiss and ask a million questions.
Little people and dog leave.
Andrew's mom, Debbie, stands in front of the wood stove telling a story about a cow farmer she bumped into at Food Lion. Debbie tells stories slow and thoughtfully.
Cow farmers aren't paid enough.
I look outside of the window and see Andrew stacking wood. He's been working outside in the cold all day. Stacking wood and haying the front fields are the last chores of the evening.
Debbie cooks over the stove and tells stories about growing up in Orange, VA. Andrew and I share a beer and listen. Her stories make my mind wander to my summers spent in
Norton, VA
as a child. And then to
Mamaw
.
We finish dinner and it's time for the big dogs to come in. Hunter and Lily come inside and plop near the wood stove to warm themselves. I can still smell a little skunk on Lily. She had a run in last week with a very unhappy little skunk.
We talk about the weather.
We plan for the weather.
We talk about the weather some more.
Bed time comes early on the farm tonight. We have to prepare for the weather, of course.